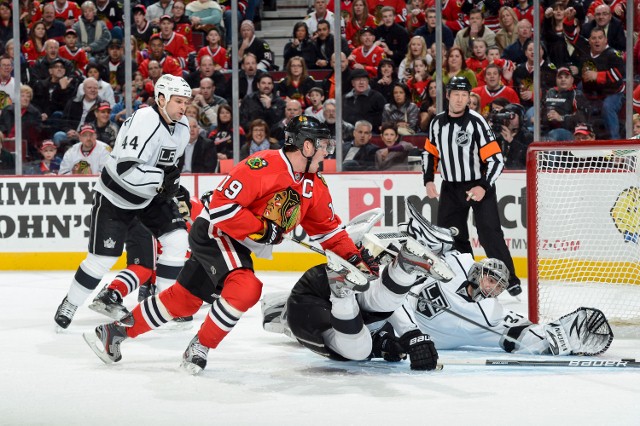 Los Angeles Projected Starting Goaltender – Jonathan Quick
Season: 24 GP (23 GS) / 10-10-2 record / 2.47 GAA / .897 Sv% / 1 SHO
Career vs Chicago: 17 (16) / 5-11-1 / 2.55 / .918 / 2
Last Game vs Chicago: 2/17/13 / 59 MP / 34-37 shots / 2-3 L
2012-13, Away: 12 (12) / 3-6-1 / 3.13 / .889 / 0
Chicago Projected Starting Goaltender – Corey Crawford
Season: 19 (18) / 13-3-3 / 1.86 / .926 / 2
Career vs Los Angeles: 7 (7) / 5-2-0 / 2.34 / .914 / 0
Last Game vs Los Angeles: 1/19/13 / 60 MP / 19-21 shots / 5-2 W
2012-13, Home: 6 (5) / 4-1-1 / 1.85 / .932 / 1
Los Angeles Leaders
Total Points: Anze Kopitar (9-19=28)
Goals: Jeff Carter (18-3=21)
Assists: Anze Kopitar (9-19=28)
Plus/Minus: Jake Muzzin (+12; 6-7=13)
Penalty Minutes: Keaton Ellerby (50*; 0-2=2)
*36 of Ellerby's penalty minutes came as a member of the Florida Panthers.
Chicago Leaders
Total Points: Patrick Kane (16-22=38)
Goals: Patrick Kane (16-22=38)
Assists: Patrick Kane (16-22=38)
Plus/Minus: Jonathan Toews (+17; 15-15=30)
Penalty Minutes: Brandon Bollig (42; 0-0=0)
A stick tap goes to: Patrick Kane. The elite forward has proven to be durable in his young NHL career, missing a total of 11 games through his first five NHL seasons. The 24-year-old has engineered the best play of his career thus far in 2012-13, appearing in all 30 games while leading the team in goals, assists and points despite an injury that has forced linemate Patrick Sharp out of the lineup for most of the last three weeks. His play in all three zones – noted by his 29 takeaways – has also seen a sharp improvement.
A fist shake goes to: The need to find something to list in the "fist-shake" category. Chicago is 24-3-3. If you're grasping for straws, injuries have affected the top-six forwards. Marian Hossa is targeting a weekend return from an upper-body injury and Patrick Sharp is still a week or so away from returning from a shoulder injury. The Blackhawks have earned points in every single game Sharp has played. As the club nurses its wounds, Brandon Saad has justified his extra minutes by accounting for 12 points (1-11=12) in the last 11 games.
Why the Kings need to win this game: A three-game losing streak would be troublesome. The Kings would like to salvage points against the Blackhawks, who have already beaten them twice in regulation. Another regulation loss would allow current playoff precipice teams such as Dallas, San Jose, Nashville Columbus and Phoenix to draw closer.
Rankings and Statistics
Goals/Game: LAK – 12 / 2.81; CHI – 2 / 3.27
Goals Against/Game: LAK – t-6 / 2.42; CHI – t-2 / 2.10
Power Play: LAK – 12 / 19.3%; CHI – 13 / 19.2%
Penalty Kill: LAK – 14 / 81.7%; CHI – 8 / 83.3%
Shots/Game: LAK – 14 / 28.9; CHI – 4 / 31.3
Shots Against/Game: LAK – 2 / 24.5; CHI – t-4 / 26.5
Faceoffs: LAK – t-6 / 51.6%; CHI – 16 / 50.0%
Save Percentage: LAK – t-21 / .901; CHI – 3 / .921
Projected Lines – Los Angeles
Dustin Brown – Anze Kopitar – Justin Williams
Mike Richards – Jeff Carter – Tyler Toffoli
Dwight King – Jarret Stoll – Trevor Lewis
Kyle Clifford – Colin Fraser – Jordan Nolan
Jake Muzzin – Drew Doughty
Rob Scuderi – Slava Voynov
Keaton Ellerby – Alec Martinez
Jonathan Quick
Jonathan Bernier
Notes: A potential shake-up looms for the top two lines after Los Angeles was shut out in back-to-back games. At the morning skate earlier today, Anze Kopitar skated with Dustin Brown and Jeff Carter, while Mike Richards skated with Justin Williams and Tyler Toffoli. It is very likely that those are the lines that will open up the game for the Kings tonight, but until I see them regularly in game action I'm going with the above. Toffoli replaces Dustin Penner in the lineup; in the three previous games Toffoli played, he skated opposite Richards on a line centered by Jeff Carter. If he were to play with Richards and Williams, I would project Williams as the left wing and Richards as the center. The Kings have not scored a goal since Jarret Stoll's third period power play goal against Phoenix last Tuesday, spanning 126:14. Los Angeles has played 25 consecutive games without heading to overtime. Los Angeles has appeared in three overtime games this year (1/24 – 1-2 OTL @ EDM; 1/28 – 3-2 SOW vs VAN; 1/31 – 1-2 SOL vs NAS), all over a span of four games. As always, line projections are educated assessments and not definite alignments.
Projected Lines – Chicago
Brandon Saad – Jonathan Toews – Michael Frolik
Jimmy Hayes – Dave Bolland – Patrick Kane
Bryan Bickell – Andrew Shaw – Viktor Stalberg
Brandon Bollig – Marcus Kruger – Jamal Mayers
Duncan Keith – Keith Seabrook
Johnny Oduya – Niklas Hjalmarsson
Nick Leddy – Michal Rozsival
Corey Crawford
Ray Emery
Notes: Patrick Kane is tied for fifth in the NHL with 38 points (16-22=38) this season. He has three three-point games in his last five games overall. Patrick Sharp, who will not play due to injury, leads all Blackhawks with 31 career points (26 GP / 18-13=31) against the Kings. Jonathan Toews ranks second with 20 points (11-9=20) in 20 career games against L.A. Brandon Saad is tied for fourth among rookies in points (15) and is tied for second among rookies in assists (11). As always, line projections are educated assessments and not definite alignments.