-The save that Cory Schneider made on the Mike Richards and Trevor Lewis two-on-one capped off an excellent sequence of Good Hockey. As the Kings were killing a penalty in their own zone, Mike Richards covered a lot of ice to disrupt the release of a Dan Hamhuis wristshot from the top of the circles. Drew Doughty ended up blocking the shot with his skate and calmly settled it. Doughty then made a patient read as both Lewis and Richards noticed the situation and found space while breaking up ice in the opposite direction. At first, it looked like the more natural pass would have been to the far width of the rink to Lewis, and it appeared as though Doughty looked up and recognized this before making a poised read and passing the puck up the right wing to Richards, who also had a wide lane of space. Richards out-waited a diving Daniel Sedin on the two-on one before finding Lewis with a perfect cross-crease pass. Schneider anticipated this, slid laterally to his right and stopped the one-timed attempt. I'm not sure if Lewis got every last ounce on his shot, but considering he was moving at top speed, and Hamhuis' stick was also in the way of the shot, it was still a great scoring opportunity, one of the few Grade-A chances that the Kings had against a strong defensive team.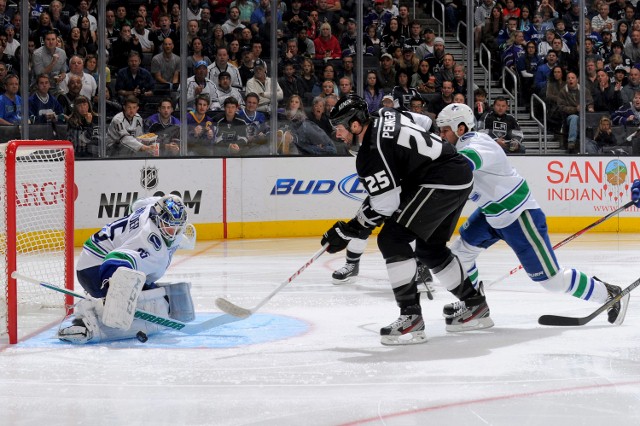 -I'm getting a clear sense that a good portion of blog readers and Kings fans are calling for the return of Tyler Toffoli to the Kings lineup. I completely understand the sentiment – Toffoli has a power play goal, two points, a plus-two rating and five shots in three games thus far for L.A. I'd also like to see Toffoli in the lineup, but at this point I still consider him to be a player to be used against teams when the matchups dictate it. He's also a player who was recalled because of the compacted March schedule necessitating extra skaters. Darryl Sutter previously explained his decision to use Toffoli as a right wing opposite Richards in effort to get Jeff Carter in the center of the ice, shooting more pucks and using his speed to cover ample space. Carter and Richards are often interchangeable at center, and both will take faceoffs on their strong side regardless of which player is listed as center. Still, when Toffoli enters the game as a right wing, Carter will see more even strength time at center and Richards will see more even strength time on the left wing. It is still in the best interests of this club – and Richards' recent two-way performances have illustrated this – for Richards to center the line and Carter to serve as right wing. Simply inserting Toffoli in Dustin Penner's spot at left wing is asking too much of a right-handed player who has minimal experience on the left side (and none at the NHL level). Toffoli isn't likely to be used on the third line, as it's not the best application of his skill set, and Sutter has been complementary of the third line's scoring. Of course, a valid argument could be made that the Kings lost both games since Toffoli was removed from the lineup, Penner was re-inserted on the second line and Richards moved back to center. I think there's a decent chance we could see Toffoli back on the right side on this road trip, perhaps as early as Monday. These are my interpretations of the nature of Toffoli's usage; share your thoughts below if you see things differently.
-He wasn't always receiving the most challenging assignments during the recent stretch of games at Staples Center, but I consider this past home stand to be an encouraging step forward for Keaton Ellerby, who has continued to get more comfortable against players and teams in the Western Conference. He was an effective penalty killer for Los Angeles yesterday and also created a solid Grade-B scoring chance in the second period when he side-stepped Chris Higgins in the right circle and flung a low wristshot at Schneider, looking for a deflection off a skate or a rebound. There was a rebound in the low slot, but Dustin Brown couldn't quite find the handle while battling with Andrew Ebbett for the loose puck. His greatest value to this team will be as a physical, own-zone defenseman – Sutter used the term "abrasive" in categorizing the way he wants him to play. The 24-year-old will be an interesting player to watch on the upcoming road trip, where the matchups won't always be as favorable.