March 23, 2013 8:42 am
Game 31 Preview: Vancouver at Los Angeles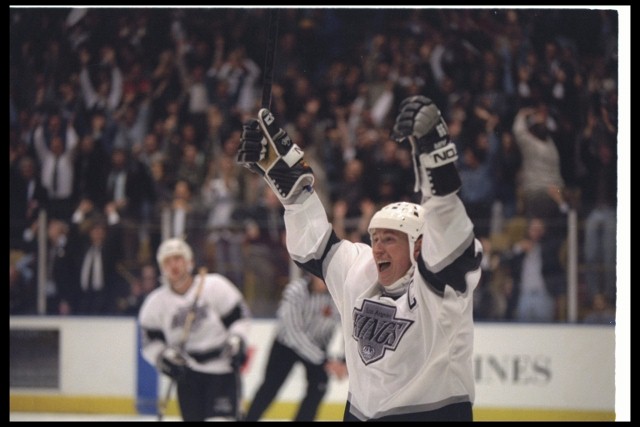 Projected Starting Goaltender, Los Angeles – Jonathan Quick
Season: 23 GP (22 GS) / 10-9-2 record / 2.54 GAA / .897 Sv% / 1 SHO
Career vs Vancouver: 16 (16) / 6-9-1 / 2.10 / .923 / 0
Last Game vs Vancouver: 3/2/13 / 58 MP / 19-23 shots / 2-5 L
2012-13, Home: 11 (10) / 7-3-1 / 1.95 / .907 / 1
Projected Starting Goaltender, Vancouver – Cory Schneider
Season: 16 (16) / 8-5-3 / 2.49 / .917 / 1
Career vs Los Angeles: 1 (1) / 1-0-0 / 2.00 / .933 / 0
Last Game vs Los Angeles: 3/2/13 / 60 MP / 28-30 / 0
2012-13, Away: 8 (8) / 4-2-2 / 2.22 / .925 / 1
-The Canucks haven't announced their starting goaltender, but because of Schneider's recent play, his March 2 performance against the Kings, and Roberto Luongo's quote yesterday "Why would I be playing? Schneids is standing on his head right now," as reported by the Vancouver Province, we're banking on him.
Los Angeles Leaders
Total Points: Anze Kopitar (9-19=28)
Goals: Jeff Carter (18-3=21)
Assists: Anze Kopitar (9-19=28)
Plus/Minus: Jake Muzzin (+13; 6-7=13)
Penalty Minutes: Keaton Ellerby (50*; 0-2=2)
*36 of Ellerby's penalty minutes came as a member of the Florida Panthers.
Vancouver Leaders
Total Points: Henrik Sedin (8-20=28)
Goals: Daniel Sedin (9-18=27)
Assists: Henrik Sedin (8-20=28)
Plus/Minus: Henrik Sedin (+17; 8-20=28)
Penalty Minutes: Dale Weise (+41; 2-3=5)
A stick tap goes to: March 23, 1994. Wayne Gretzky scored his 802nd career goal 19 years ago today against Vancouver's Kirk McLean to break Gordie Howe's NHL record. Entering the zone on the power play, Luc Robitaille dropped the puck for Gretzky inside the attacking blue line. Gretzky sent a cross-ice pass to Marty McSorley, who drew the balance of the Canucks skaters to him before sending the puck back across the slot to an unmarked Gretzky. Gretzky snapped the feed into a mostly open net to set off a long celebration at the Forum.
A fist shake goes to: Injuries and suspensions. Ryan Kesler, Manny Malhotra, David Booth and Zack Kassian are on injured reserve and Alex Edler has been suspended for two games for bowling over Mike Smith on Thursday. Because Chris Higgins' back stiffened up Thursday morning, eight-year defensive veteran Keith Ballard skated as a winger in Vancouver's win over Phoenix that night. Higgins should be back in the lineup, meaning Ballard will return to the blue line for today's matinee.
Why the Kings need to win this game: These are two teams that need points and are looking to remain on the sunnier side of the Western Conference playoff landscape. The Kings don't want to bring a two-game losing streak into their season-long five-game roadtrip, which opens Monday against Western Conference-leading Chicago.
Rankings and Statistics
Goals/Game: LAK – 8 / 2.90; VAN – t-15 / 2.67
Goals Against/Game: LAK – 8 / 2.47; VAN – 14 / 2.60
Power Play: LAK – t-10 / 19.8%; VAN – 29 / 13.3%
Penalty Kill: LAK – 15 / 81.2%; VAN – 16 / 80.7%
Shots/Game: LAK – t-14 / 29.2; VAN – 16 / 29.0
Shots Against/Game: LAK – t-2 / 24.9; VAN – 14 / 28.5
Faceoffs: LAK – 7 / 51.4%; VAN – 27 / 47.2%
Save Percentage: LAK – t-22 / .901; VAN – t-14 / .909
Projected Lines – Los Angeles
Dustin Brown – Anze Kopitar – Justin Williams
Dustin Penner – Mike Richards – Jeff Carter
Dwight King – Jarret Stoll – Trevor Lewis
Kyle Clifford – Colin Fraser – Jordan Nolan
Jake Muzzin – Drew Doughty
Rob Scuderi – Slava Voynov
Keaton Ellerby – Alec Martinez
Jonathan Quick
Jonathan Bernier
Notes: The Kings have played in 24 consecutive games without heading to overtime. Jonathan Quick is four wins behind Kelly Hrudey for the second-most in club history. Drew Doughty's minus-12 rating in 18 regular season games against Vancouver is his lowest plus/minus rating against any NHL team. The Kings are 3-1-0 on this homestand, outscoring their opponents 12-6. As always, line projections are educated assessments and not definite alignments.
Projected Lines – Vancouver
Daniel Sedin – Henrik Sedin – Alex Burrows
Mason Raymond – Jordan Schroeder – Jannik Hansen
Chris Higgins – Maxim Lapierre – Andrew Ebbett
Andrew Gordon – Tom Sestito – Dale Weise
Kevin Bieksa – Dan Hamhuis
Andrew Alberts – Jason Garrison
Keith Ballard – Chris Tanev
Notes: Lines via Nucks Misconduct. Chris Tanev has been slowed by a sore foot but tested it yesterday at Vancouver's optional practice and shouldn't be held back. He scored his second career goal in Thursday's win over Phoenix. Chris Higgins is expected to return to the lineup after missing Thursday's game with a stiff back. Former St. Cloud State Husky Andrew Gordon is expected to play in his second game of the season after being recalled from AHL-Chicago. He recorded five points in 27 games with Anaheim a season ago after a strong preseason showing. Forward David Booth underwent surgery for an ankle injury suffered last Saturday and is out for at least the remainder of the regular season.