-After the win over Colorado last month, Darryl Sutter offered a relevant quote that pertains to last night's loss to Dallas. "It's not always whether you win or lose. It's whether you're winning or losing," he said after the 4-1 win on February 23. Despite last night's loss, Kings fans should be encouraged by a pair of "winning" Jonathan Quick performances this week in which he stopped 46 of 48 shots over two games and couldn't be faulted for either goal. The first goal, which fell in the "greasy" category, as Anze Kopitar mentioned last night, came off a Jaromir Jagr backhand that was heading wide before deflecting off Drew Doughty. On the second goal, scored on a three-on-two rush, Quick covered a lot of space in the crease and got a piece of Ray Whitney's one-timer before it found the back of the net. It appeared as though he was locating the puck well, and his tremendous glove save on Trevor Daley was the type of save that Kings fans practically expected him to make a season ago. Though it was a strong performance, his home save percentage actually dropped from .908 to .907; the degree of improvement from his .889 road save percentage will have some say in how Los Angeles fares in its upcoming trip through Chicago, St. Louis, Minnesota, Dallas and Phoenix.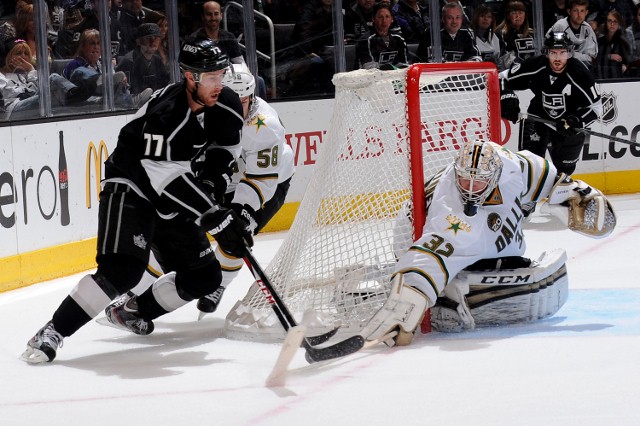 -Kari Lehtonen was excellent on the other end of the ice in earning his first shutout of the season. I replayed several of his saves this morning, and his denial of Jake Muzzin's power play wristshot from the tops of the circles early in the first period had quite a bit of say in Dallas' success. Los Angeles hadn't trailed at home since the previous Dallas game – they had outscored opponents 9-2 in the first period during their five-game home winning streak – and this game would have taken a completely different trajectory if the Kings stuck to their familiar home script and jumped ahead early. A list of Pacific Division goaltenders that are a part of a rotation this year offers another example of the parity out west. When names such as Quick, Lehtonen, Jonathan Bernier, Mike Smith, Antti Niemi, Jonas Hiller and Viktor Fasth are listed on scoresheets, Darryl Sutter's observation that "There ain't no weak sisters" is again illustrated.
-Jordan Nolan's north-south game was impressive in his 8:16 of ice time. His most high-profile move was his first period chip work along the boards to himself before driving through Alex Goligoski and cutting towards the tops of the circles where he tested Lehtonen low with a quick shot that was kicked aside. He is at his best when he's getting pucks deep, forechecking and making hits on the opposing defensemen deep in the attacking zone. There shouldn't be anything fancy; he's not an east-west player. It's similar to the role that Kyle Clifford continues to chisel out.