-Helene Elliott has the Times' recap of Tuesday's game against Phoenix. Drew Doughty, on saying that the goal drought wasn't important: "I obviously was worried. I was just saying that," he said. "It's good to get that off my back. I'm hoping I can get on a little roll now. I'm kind of a streaky scorer, so I'm hoping that kind of continues." Like the purple-and-black jerseys, let's put those Phoenix games on mothballs and move on.
LA Times: It worked once, it works again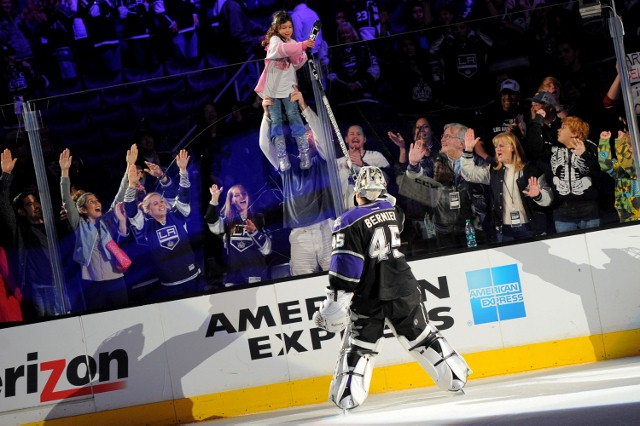 -Curtis Zupke doesn't take shifts off. If the Kings and Ducks are both hosting extended homestands, he'll be alternating days driving up the 110 to Staples or across the 91 to Honda with a few days at TSC and Anaheim Ice sprinkled in – sometimes for two weeks at a time. He had a good conversation with Jonathan Bernier about his added responsibility this year. Dustin Penner, on Bernier: "He's a team-first guy, but as an individual, he wants to probably achieve a level of success that Quickie achieved. It's just one of those things, as a goaltender, you have to sometimes bide your time. Tim Thomas waited how long? It's tough on him, but it's a great opportunity for him to compete against a Conn Smythe-winning goaltender in [Jonathan] Quick. I think they have a great rapport and they make each other better."
NHL.com: Bernier shines in limited chances, waits for new gig
-The Fourth Period reported Wednesday that former AEG President and CEO Tim Leiweke was in Toronto to meet with Maple Leaf Sports and Entertainment about the company's vacant CEO position. TheFourthPeriod.com: Sources: Leiweke meeting with MLSE
-According to Dave Feschuk, Leiweke hasn't actually met with MLSE's board of directors yet. Here are 782 words on why he'd be an intriguing fit for the company.
Toronto Star: MLSE casts covetous eye at former L.A. Kings exec: Feschuk
-Adam Gretz looks at who the Kings' needs prior to the trading deadline and throws a new name in the mix: Adrian Aucoin, an alternate captain with Columbus who turns 40 in July.
CBS Eye on Hockey: Los Angeles Kings trade rumors, trade deadline outlook
-I'm with Gann on this one. More important than Drew Doughty recording his first goal on Tuesday is that his defensive zone play has matured over the last year.
Frozen Royalty: "Move Along, Nothing To See Here" Really Means What It Says In The Case Of LA Kings' Drew Doughty
-After reading this story that has made its rounds, go to the home page on John Hoven's site and check out the awesome photography backing up his banner piece. Entertaining.
Mayor's Manor: Doughty thinks Coyotes whine nearly as much as Canucks
-Robert P. has got you covered with game grades and analysis from LA-Phoenix, Part Deux.
Jewels from the Crown: Kings vs. Coyotes II: Game Grades and Analysis
-Matt from Life in Hockeywood digs into the archives to honor two of the greatest hockey games of all-time: NHLPA 93 and NHL 94, the latter of which is celebrating its 20th anniversary.
Life in Hockeywood: The Hockeywood Video Game Hall of Fame: NHLPA 93 and NHL 94
-Player X examines right-shooting defensemen in the NHL and identifies how finding a quality right-handed shot can help a team.
Hold the Point: I Can't Shoot Left, It Doesn't Feel Right. So, I Shoot Right, It's The Only Way Left.
-Paul Armbruster has posted PDFs depicting the stats and stories depicting the Manchester Monarchs' week of March 11-17.
Kings News Daily: Monarchs Week in Review
-If the players' private lives interest you, follow the link below.
E! Online: Erin Andrews Dating L.A. Kings' Jarret Stoll—He Reveals What They Did for Valentine's Day!