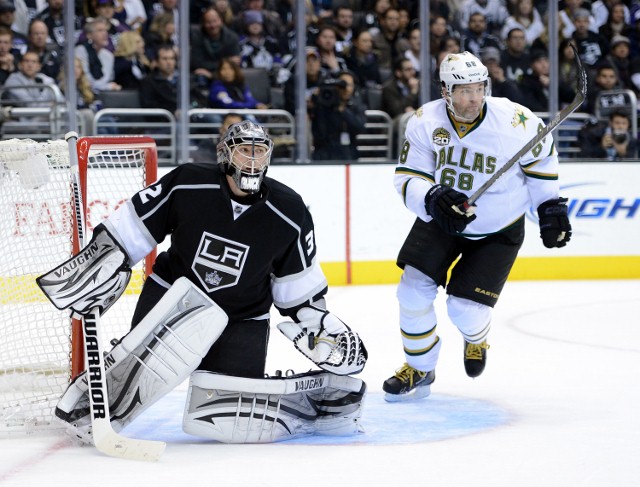 Projected Starting Goaltender, Los Angeles – Jonathan Quick
Season: 22 GP (21 GS) / 10-8-2 record / 2.56 GAA / .896 Sv% / 1 SHO
Career vs Dallas: 19 (18) / 13-4-2 / 2.26 / .921 / 2
Last Game vs Dallas: 3/7/13 / 60 MP / 17-21 shots / 2-5 L
2012-13, Home: 10 (9) / 7-2-1 / 1.94 / .908 / 1
Projected Starting Goaltender, Dallas – Kari Lehtonen
Season: 21 (20) / 10-7-2 / 2.54 / .916 / 0
Career vs Los Angeles: 13 (13) / 7-6-0 / 2.66 / .904 / 0
Last Game vs Los Angeles: 3/7/13 / 60 MP / 31-33 shots / 5-2 W
2012-13, Away: 10 (10) / 5-4-0 / 2.19 / .929 / 0
Los Angeles Leaders
Total Points: Anze Kopitar (9-19=28)
Goals: Jeff Carter (18-3=21)
Assists: Anze Kopitar (9-19=28)
Plus/Minus: Jake Muzzin (+14; 6-7=13)
Penalty Minutes: Keaton Ellerby (50*; 0-2=2)
*36 of Ellerby's penalty minutes came as a member of the Florida Panthers.
Dallas Leaders
Total Points: Jaromir Jagr (11-10=21)
Goals: Jaromir Jagr (11-10=21)
Assists: Alex Goligoski (0-14=14)
Plus/Minus: Derek Roy (+5; 3-13=16)
Penalty Minutes: Antoine Roussel (51; 5-5=10)
A stick tap goes to: Kari Lehtonen. Darryl Sutter spoke for a lot of people who have followed the Pacific Division when he referred to Lehtonen as "probably a guy that has flown under the radar to date." Assuming Miikka Kiprusoff doesn't return to Olympic competition, who are the goalies Finland brings to Sochi next year out a collection of Pekka Rinne, Niklas Bäckström, Antti Niemi, Tuukka Rask and Lehtonen?
A fist shake goes to: Antoine Roussel. Roussel straddles the occasionally blurry line between "stick tap" and "fist shake". On one hand, he's the only current player in the National Hockey League born in France, and that type of a unique background is admired at LAKings Insider. He has 10 points through his first 20 NHL games and was temporarily added to the team's second line after an earlier production surge. On the other hand, he's a sandpaper-type agitator with as many hits as Brenden Morrow in seven fewer games. He hits, he fights, he irritates, and there's a decent chance the hard worker will draw the attention of Kings fans at Staples Center tonight.
Why the Kings need to win this game: Dallas is playing in the second game of a back-to-back set after traveling overnight from Denver, where they couldn't hold a third period lead and lost to the basement-dwelling Avalanche, 4-3. That, combined with the Kings' 12-2-1 home record, would indicate that these are an important two points to grab before four consecutive games against teams currently situated in the Western Conference's top six seeds.
Rankings and Statistics
Goals/Game: LAK – t-6 / 3.00; DAL – 18 / 2.59
Goals Against/Game: LAK – 8 / 2.48; DAL – t-23 / 3.00
Power Play: LAK – 9 / 20.4%; DAL – t-18 / 16.8%
Penalty Kill: LAK – 17 / 80.9%; DAL – 13 / 81.8%
Shots/Game: LAK – t-15 / 28.9; DAL – 27 / 27.1
Shots Against/Game: LAK – 2 / 25.0; DAL – 20 / 29.7
Faceoffs: LAK – t-10 / 51.1%; DAL – 23 / 47.7%
Save Percentage: LAK – 23 / .901; DAL – 24 / .899
Projected Lines – Los Angeles
Dustin Brown – Anze Kopitar – Justin Williams
Dustin Penner – Mike Richards – Jeff Carter
Dwight King – Jarret Stoll – Trevor Lewis
Kyle Clifford – Colin Fraser – Jordan Nolan
Jake Muzzin – Drew Doughty
Rob Scuderi – Slava Voynov
Keaton Ellerby – Alec Martinez
Jonathan Quick
Jonathan Bernier
Notes: The Kings won 41 of 60 faceoffs against Dallas in the last meeting between these teams on March 7. They have not trailed at home since that game. Los Angeles is 12-1-1 when scoring first. Jonathan Quick is now seven shutouts behind Rogie Vachon for the most in team history. He is four wins behind Kelly Hrudey for the second-most in club history. As always, line projections are educated assessments and not definite alignments.
Projected Lines – Dallas
Ray Whitney – Jamie Benn – Loui Eriksson
Brenden Morrow – Derek Roy – Erik Cole
Reilly Smith – Cody Eakin – Jaromir Jagr
Eric Nystrom – Vernon Fiddler – Antoine Roussel
Brenden Dillon – Stephane Robidas
Alex Goligoski – Trevor Daley
Jordie Benn – Philip Larsen
Kari Lehtonen
Jack Campbell
Notes: Lines via Mike Heika of the Dallas Morning News. Ray Whitney is a game-time decision with an upper-body injury. 6-foot-4 forward Alex Chiasson has been called up from AHL-Texas. Dallas has won three straight at Staples Center, outscoring Los Angeles 12-7 if shootout goals are considered. The Stars have allowed at least four goals in nine of their last 16 games. Jack Campbell, the goaltender who led the United States to World Junior gold in 2010, will back up Lehtonen. Selected 11th overall when the Kings hosted the draft at Staples Center, Campbell is yet to make his National Hockey League debut. As always, line projections are educated assessments and not definite alignments.