Many have referenced March as being the most difficult month of 2012-13's truncated schedule – between March 2 and March 31, the team plays 17 games in 30 days, including four back-to-back sets.
Most of the heavy lifting of this month's schedule has been taken care of, and though this coming week opens with a three-in-four, the first two games are against the same opponent, Phoenix, while Thursday's opponent, Dallas, will be playing on the second night of a back-to-back after traveling overnight from Denver.
After that, there aren't any back-to-back sets until the month concludes with games at Minnesota and Dallas on back to back nights, March 30 and 31.
I checked in with Dwight King after an optional practice today to see how the team was holding up throughout this strenuous month in which the team is looking to build on its 5-4-0 through nine games.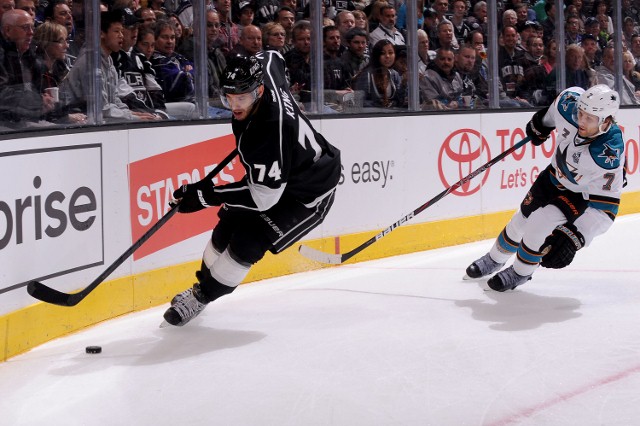 On how he and the team are feeling in this busy month:
"It's definitely a little different. Obviously this month here is our most compact month. Personally, myself, I'm doing OK. We get a lot of rest here with the days in between. Those days you've got to utilize, and for myself, obviously, I just try to take care of my body."
On whether the lack of practice time makes fine tuning his game a challenge:
"Yeah, obviously you would like to have more practice time. Moreso, probably as coaches than players. But there are things that you kind of have to learn and address just through video now, and less time just physically going out there and seeing it and doing it."
On how the decision is made to skate – or not to skate – on optional days:
"You judge yourself depending on how you play or how your body's feeling. It kind of helps the decision. For us, guys that don't play a ton of minutes, it's usually better to get out there and get your legs going, and you feel better the next day."
On how playing in Manchester during the lockout helped build endurance:
"I've only just made the jump here, so I wanted to keep skating, keep game condition, everything like that. Going back to Manchester, it's very similar to here. It was a benefit."
On the goal he scored against San Jose last night:
"[It was] a hard-working goal by my linemates. They did all the work on the forecheck and turned the puck over, and I just saw the goalie was screened a little bit and put it to the side. He wasn't looking over."